MA15 Restrictions on TASP
The operation on TASP is allowed up to a field of 14.9 Tesla for A2 angles between -45 and -100. The distance to the monochromator must be 630 mm or more, and the distance to the beryllium filter 250 mm. See pictures how to measure: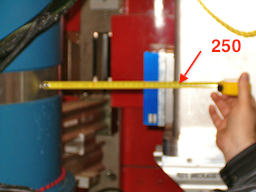 Force measurements 20. April 2012
Summary: Distance as above, at 8.6 Tesla, a2=-48, a4=105: vertical force 440 N, horizontal force 210 N.
Report by Martin Mansson
Force test 27. July 2015
Conditions:
Ei =11meV == a2 = -47.97deg
a4 = 105deg
Be-filter installed
dist. Magnet-filter: 260mm
dist. mono-table: 630mm
Both vertical and horizontal forces stay below the specified maximum allowance. In this configuration the magnet can be used up to 14.9T.
---
Attachments: TASP_M15_forcetest.pdf foto3.jpg vertiforce.png MA15filterDistanceTASP.jpg foto2.jpg MA15sampleDistanceTASP.jpg foto1.jpg horiforce.png
---
Printer Friendly
Page Info
This page last changed on 04-Sep-2017 07:36:40 UTC by MarkusZolliker.